MARGO ISADORA
20
New York City
Majoring in Fashion Design at Parsons The New School for Design
What's one thing you want other young people to know about traveling abroad?
The best recommendations are ones from friends – vaguely plan your trip around them, it's easy to get overwhelmed or stuck in terrible tourist traps. However, your favorite moments will be the ones you have between the 'destinations' you set out for. Travel by foot when you can, and keep yourself open to wandering a bit off the beaten path.
THE IDEAL DAY
24 hours in FLORENCE, IT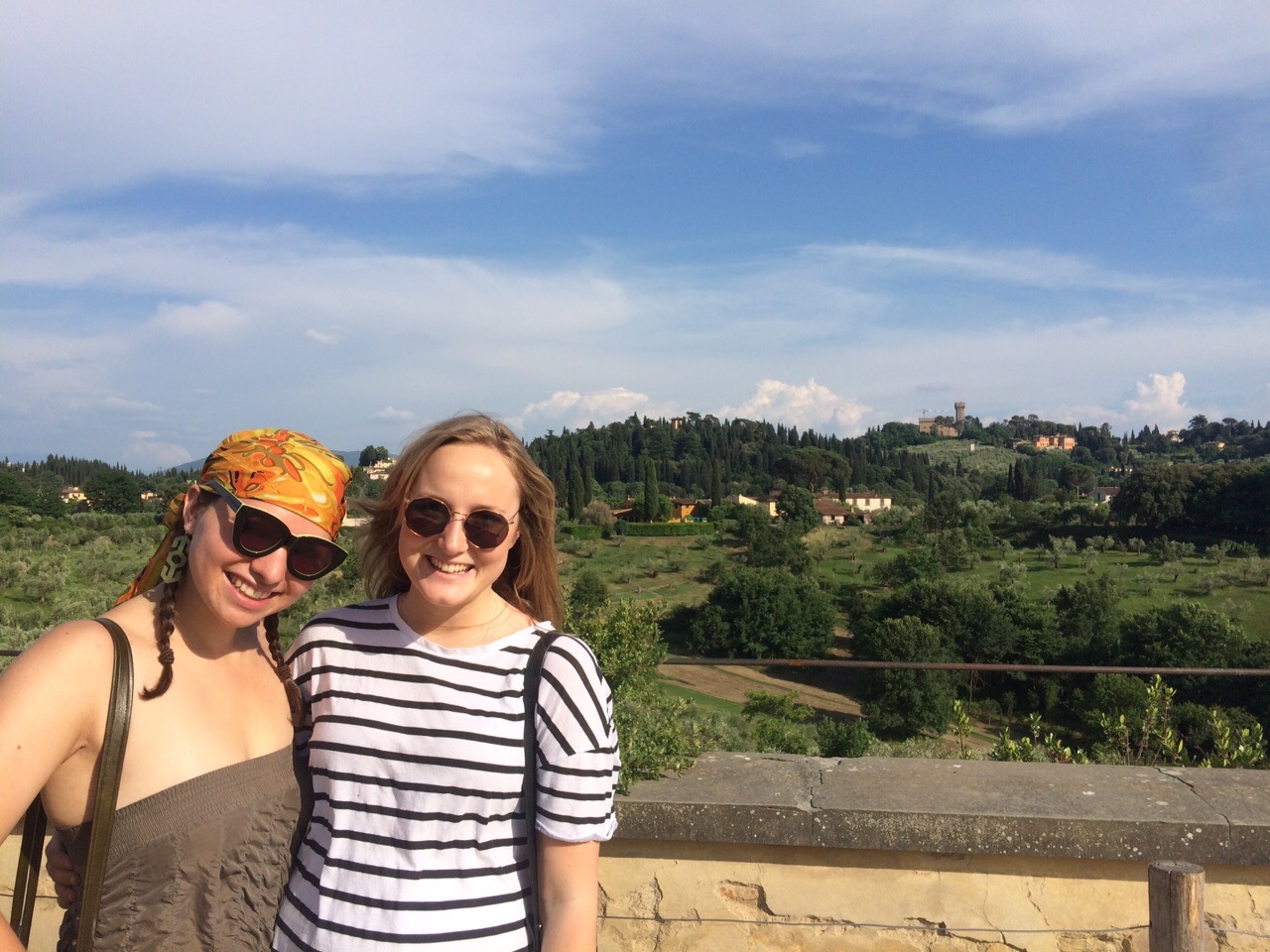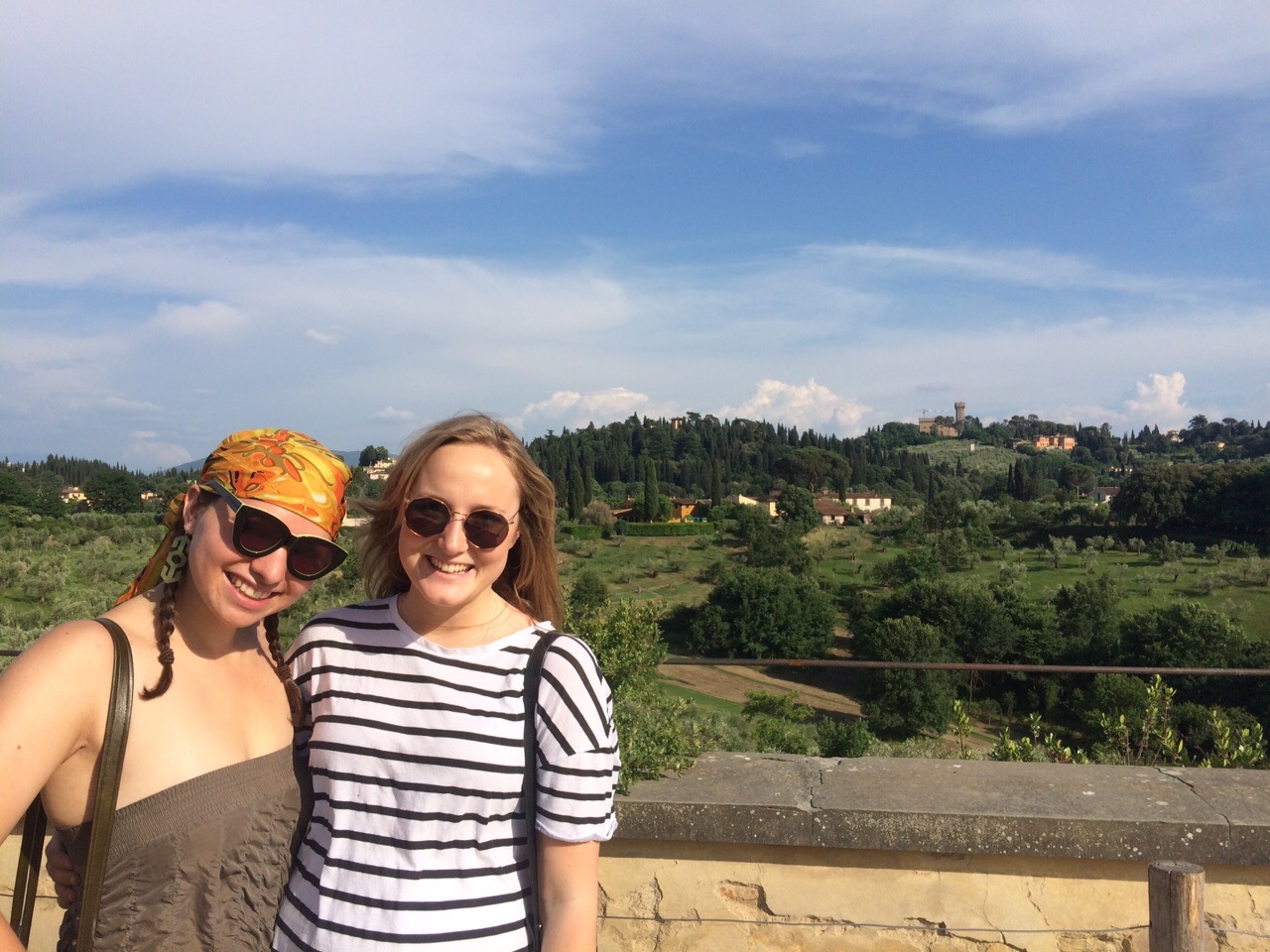 9AM Upon waking, meander to the closest market to make your ideal Italian picnic. My first morning, I picked up a delicious jar of yogurt, some peaches, ripe heirloom tomatoes, mozzarella, pesto, and some flatbread. We enjoyed a leisurely morning and had another meal and snacks left for our time there.
10AM Make your way though the touristy section of town, to get your bearings and catch a glimpse of the incredible Duomo, but avoid super touristy locales the first day, get to know Florence a bit first.
11AM Stop by the Mueso Novecento to get a broader understanding of Italian modern art.
12PM A stop at the Ferragamo Museo (a must for designers and shoe appreciators) is perfect! It is a small museum, but filled with stunning shoes and some of the Ferragamo's family's art.
1PM You will be hungry for lunch by this point from all your walking, so head to the Mercato Centrale, Florence's famous food market. The first floor is a feast for the eyes filled with fresh produce, cheeses, meats and other Italian delicacies. I went with the picnic tactic again, but you can also purchase prepared foods.
2PM Refueled, you'll be ready to head across the Arno River to the cool Artisan/Vintage side of town.
3PM Visit Vintage Verabis, it's kind of like going down the rabbit hole! A crazy health hazard of a store, with so many clothes hung, piled and stacked that you literally cannot get to some of it. It's a worthwhile treasure hunt, I came out with a defining orange/sequined number from the 60's!
4PM Before you continue to thrift, head over to the Baboli Gardens before they close for the evening. Gorgeous formal gardens – perfect to relax, read and wander through. Be sure to see the incredible costumes at Pallazo Pitti while you're there!
5PM GELATO. If you spent all day walking and by 4 or 5 you will find yourself in need of a gelato most days.
6PM On this side of the Arno, I recommend wandering through the little shops, artisans will be most likely closing up but it's my favorite area of Florence.
7PM Head to Piazza Santo Spirito for dinner, at the small trattoria on the corner, just beyond the popular bar. I don't think you can go wrong there – but that trattoria had the best dessert I've had in my life – homemade ricotta and chocolate.
9PM After a leisurely meal, get a mojito, from the skilled female bartender, at the most popular bar in the Piazza. Then wander the Piazza with the young, married, and old chatting, flirting and playing music. It is the most wonderfully Italian way to spend your night! Head home with a friend, as the only downside of Florence was their lack of transportation in the wee hours. Get some sleep, as you'll need it with the full days of walking! Remember to stay open to where ever your path takes you.
EXTRAS
What's your suitcase packing method? Always be prepared… I try to pair down- but more is more in my experience!
Do you have any tips for go through airport security? Patience is a virtue!
What is the one thing you must have while traveling? Tea and a small container of almonds – or something healthy to snack on – You never know when you'll get stuck in transit and be desperate!
How many languages do you speak? English and I can get by in Spanish if need be! (Must practice!)
*You in three words. Spirited, Open, & Mindful
When you've had a bad day what keeps you going? The knowledge that its okay to feel crappy – its part of life. When I was in the midst of a difficult semester, a wise friend of mine, who happens to be 95, told me that I was going through a "Creative Pause" – at the time I didn't understand, but looking back she was exactly right. We all go through periods of difficulty the important thing is not what happens but how we deal with it (advice I learned from an inspiring coach, Jimmy Minardi).
What items can be found on you at all times? Sketchpad and Muji Pen.
What are you addicted to? In the summer, ICED TEA, I make 4 varieties some nights in individual mason jars. It is a very easy process to prep overnight – but my friends and mom tease me for it!
What did you Google last? John Oliver Food Waste.
What is the last thing you took a photo of? Tonight's sunset.
What's the one piece of clothing everyone should own? Exercise pants; get out and move – however you want to – it's my secret to sanity most days.
What outfit do you wear on repeat? DRESSES – all 4 seasons.
Where would you like to be five years from now? Happy.
What's next? Creation, collaboration & connection.
Follow Margo on Instagram @margoisadora and see her work on www.margoisadora.com