SARAH DIOUF**
a three part profile
AT A TIME WHERE AFRICAN FASHION IS MASSIVELY MAKING ITS WAY TO THE GLOBAL CLOSETS, THE QUESTION OF SUSTAINABILITY IN ALL OUR BUSINESS MODELS REMAINS, AND URGES THIS VERY NEW INDUSTRY TO RETHINK - IF NOT - TO THINK DIFFERENTLY THE AFRICAN FASHION BUSINESS AND ITS PROFITABILITY.
COMING FROM THE [FASHION] MEDIA WORLD, I HAVE BEEN ABLE TO SEE, AND LEARN FROM DIFFERENT ANGLES AND ACTORS, MECHANISMS THAT SHAPED THE EXECUTION OF THIS VENTURE. CROSS CULTURES, THE DIGITAL ERA, AND THE CELEBRATION OF THE AFRICAN LIFESTYLE ARE ALSO TO BE THANKFUL FOR AS THEY MAKE THIS VERY MOMENT TO CEASE : FOR US TO STRATEGICALLY NOURISH OURSELVES FROM SUCCESSFUL CONFIGURATIONS, AND ADAPT - NOT APPLY - THEIR WINNING ELEMENTS TO OUR OWN CONCEPTS.
THIS IS HOW WE'VE DECIDED TO THINK BIG, START SMALL, AND ACT NOW, TO UNFOLD BY NEXT SPRING, A MADE IN AFRICA ONLINE CLOTHING STORE OFFERING AFFORDABLE QUALITY FASHION. FOR THE BEGINNERS THAT WE ARE, THE PROCESS WAS DRAINING AND A BIT STRESSFUL, YET VERY EXCITING AS A REAL CREATIVE JOURNEY. WE'VE SUCCEEDED IN COMING UP WITH A PRE-COLLECTION WIDE IN TASTE, SHAPES AND STYLES, FOR YOU SISTERS, TO LEAN WITH THE TONGORO SPIRIT.
[TONGORO] MEANS STAR IN SANGO, WHICH IS THE CENTRAL AFRICAN REPUBLIC NATIONAL LANGUAGE (SADLY RANKED 180TH ON 187 ON THE HUMAN DEVELOPMENT INDEX). HEART OF THE CONTINENT, AND ABOUNDING IN DIAMONDS MINES, THE COUNTRY HAS ONLY KNOWN FEW HOURS OF PEACE SINCE ITS INDEPENDENCE IN 1958 WITH UNSTABLE AND ROCKY POLITICAL SITUATIONS (...) LEADING LAST YEAR, TO AN UNPRECEDENTED CHAOS ON WHICH THE WHOLE WORLD TURNED HIS BACK.
FOR EVERY SINGLE TIME WE WILL BE ASKED WHAT
TONGORO
MEANS, WE'LL BE ABLE TO HIGHLIGHT OUR FORGOTTEN LAND AND PAY TRIBUTE TO THE VERY HEART OF OUR MOTHER, WOUNDED, BLEEDING, YET STILL BLOSSOMING.
What inspired your latest issue of Ghubar? Of Noir?
Ghubar is inspired by my cultural heritage, the people I meet and their journeys, and my passion for the Arabic world.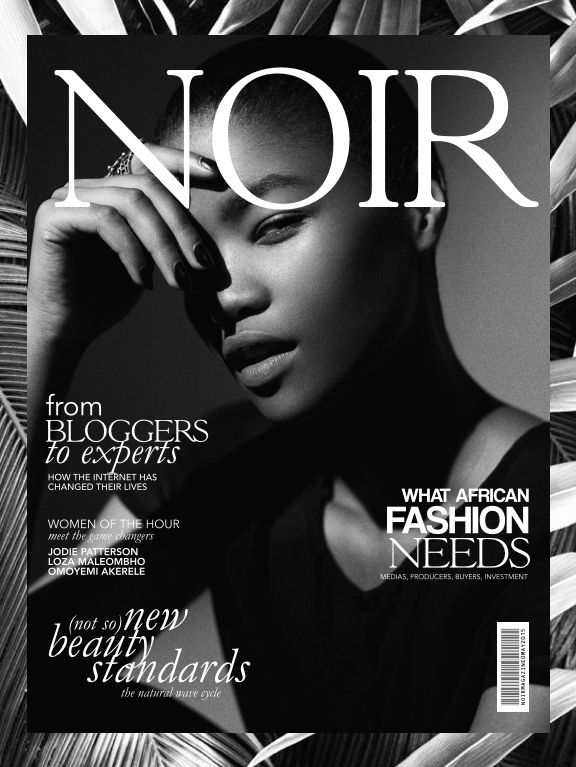 The introduction issue of NOIR is showcasing and spreading the message of the multi-dimensional Black woman, through profiles, interviews but also beauty and fashion editorials. She is African, Afro-American, European, and fully inserted into the realities of a globalized world. She's life, style, and a state of mind.
What is the inspiration for the next issue and or publication you are working on?
I am currently working on the next Ghubar issue. I am currently researching for a shoot inspired by Laurence D'Arabie, and another inspired by cultural clashes.
PROCESS
I AM USUALLY INSPIRED BY A MOMENT, SOMEONE IN THE TRAIN, A NEWS, WHATEVER HITS MY BRAIN AND ALLOWS ME TO PLAY WITH IT IN A CREATIVE WAY TO COME UP WITH A VISUAL PRODUCTION.
three words that describe you?
**UNAPOLOGETIC. 360. TRAVELER.
How did you find fashion?
Watch this :